Hull Vane® and Naiad Dynamics® today jointly announced their collaboration on an innovation called the Dynamic Hull Vane®. This is an actively controlled version of the patented Hull Vane®, a passive underwater wing that improves the performance and comfort of medium-speed displacement vessels. The Dynamic Hull Vane® brings the next level in ride comfort and efficiency to the superyacht world.
The Dynamic Hull Vane® is identical to the passive Hull Vane® below the waterline, and is adapted from Naiad's proven active T-foil and fin stabilizer designs above the waterline. All the parts requiring maintenance are able to be mounted inboard.
Operation is simple. With the Dynamic Hull Vane® off, the ship has all the benefits of the passive Hull Vane: a higher speed and greater range, less wave-making, and reduced noise. When the sea conditions turn rough, the unit is simply switched to dynamic mode and the vessel feels as if it has active suspension, with less pitching motion, less vertical acceleration, and less slamming. The result is actively controlled efficiency and comfort.
Naiad Dynamics® and Hull Vane® shared the same development goal: to design a simple and maintenance-free mechanism to provide years of reliable service, and combine it with established Naiad Dynamics® control technologies. Naiad Dynamics® manufactures the moving parts and the digital control system for the Dynamic Hull Vane®, and guarantees long-term global support via its worldwide network of offices and dealers.
Bruno Bouckaert, Hull Vane BV Sales Director, commented: "Since its introduction in 2014, the passive Hull Vane® – essentially an underwater spoiler – has been increasingly applied to reduce the resistance and motion of ships. Ideal applications are ships that combine a significant displacement with a relatively high speed, such as superyachts, passenger ships, naval ships, coastguard vessels and fast offshore supply vessels."
To date, 21 passive Hull Vanes have been supplied and Hull Vane® reports another 20 are on order, both for new-builds and as a retrofit for existing vessels. With the effectiveness and durability of the Hull Vane® well established, an increasing number of new-build superyachts, ferries and patrol vessels have integrated the device from the start of the vessel design process.
"In addition to reduced resistance, the passive Hull Vane® provides a reasonable amount of pitch damping, enhancing the comfort on board by reducing vertical accelerations," Bouckaert explained. "Vertical accelerations cause the continuous feeling of being alternatingly heavier and lighter, and are a main source of seasickness. The pitching motions are also a complicating factor in manoeuvres such as helicopter landings and the launch and recovery of daughter craft."
In response to market demand for greater pitch reductions than a passive (static) device could generate, Hull Vane BV engineers began collaborating with Naiad Dynamics® engineers to develop an actively controlled version of the Hull Vane®. CFD simulations showed that the pitch motion reduction could be doubled from 10-20% with a passive Hull Vane to 20-40% with an active Dynamic Hull Vane®.
John Venables, Naiad Maritime Group Inc. CEO, commented: "The collaboration proved ideal by combining the strengths of each company – particularly the hydrodynamic expertise of Hull Vane BV with the hydraulic, mechanical and control system expertise of Naiad Dynamics®. As pioneers in multi-axis ship control and recent applications of Total Ride Control® system solutions for superyachts, Naiad Dynamics® was the best fit to support this development."
With over 14,000 stabilization and ship motion control systems supplied, Naiad Dynamics® is an established leader in active ship ride control. In the superyacht market Naiad is primarily recognized for its AtSpeed® and AtRest® fin stabilizers and active interceptors, but the company is also highly active in the fast ferry market and naval ship sectors, with ride control solutions such as active T-foils, lifting foils, canards, yaw fins, and an array of related devices.
"Naiad Dynamics® has the expertise to integrate the Dynamic Hull Vane® in a Total Ride Control® system package, to work in conjunction with AtSpeed® and AtRest® stabilizer fins and any of several other underwater effectors for the ultimate in ship motion control," Venables concluded.
According to Bouckaert, application discussions are already underway with some of the world's most renowned superyacht builders.
The Dynamic Hull Vane® is being exhibited during the Monaco Yacht Show at Naiad Dynamics' booth in the Darse Sud pavilion, stand number DS45.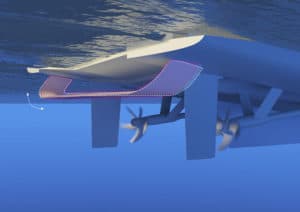 For more information:
Bruno Bouckaert, Sales Director, Hull Vane BV
T : +31 (0) 317 42 58 18
www.hullvane.com
John Venables, CEO, Naiad Maritime Group, Inc.
T : +1 203 944 1932
www.naiad.com

Hull Vane® and Dynamic Hull Vane® are each registered trademarks of Hull Vane BV.
Naiad®, Naiad Dynamics®, ND®, AtSpeed®, AtRest®, and Total Ride Control® are each registered trademarks of Naiad Maritime Group, Inc. Naiad Maritime Group, Inc. is a multinational corporation with its head office in the USA, and the parent company of the Naiad Dynamics companies.