Wageningen, 9 May 2019 – Recently, Shipyard de Hoop, based in Lobith, has taken delivery of four Hull Vanes for a series of near-sisterships, measuring 55 meters and used in the offshore and security domain.
Having tested the Hull Vane®, an underwater wing to improve ship performance, onboard the 55m Fast Supply Vessel Karina back in 2014, Shipyard de Hoop is no stranger when it comes to the Hull Vane®. Sea trials with and without Hull Vane® at the time showed a reduction in fuel consumption of 10 to 15%, depending on the ship's speed. The difference in stern wave was also clearly visible, and Shipyard De Hoop's technical director Fré Drenth coined the phrase "the iron behind the stern" for the Hull Vane®, because it flattened the wake so much.
Apart from a reduction in fuel consumption, the Hull Vane® also provides the vessels with a higher top speed, a longer range (or higher crossing speed) and improved seakeeping (10 to 20% less vertical accelerations onboard). A total of five vessels were built in the series and were proposed to the market in various forms, such as an offshore patrol vessel, a survey vessel or a superyacht support vessel.
Recently, Dutch shipowner Rederij Groen (Scheveningen) took delivery of one of the vessels, named Linde-G, which is in use as a Multipurpose Guard Vessel in Norway. Two other vessels were sold as Offshore Patrol Vessels to HLS International and will be delivered shortly for security work in Nigerian waters. A fourth ship will be used as an Offshore Patrol Vessel in Kenian waters. The first vessel, MV Karina, will be used as a Fast Supply Intervention Vessel in the oil & gas industry. Each of the five vessels is equipped with a Hull Vane®.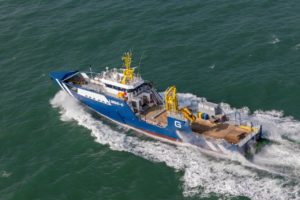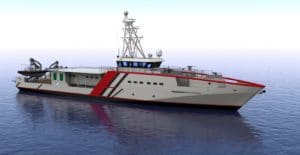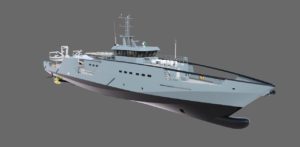 Patrick Jansen, C.E.O. of Shipyard de Hoop: "The Hull Vane® is a good example of how we do our innovation and R&D. We like to try things full scale, give it our best shot within a short timeframe and limited budget, and if it works, we implement it. If not, we haven't wasted a lot of time and costs on it. The Hull Vane® is an example of something that clearly works very well, and we see applications on other vessels in our yard as well, such as expedition cruise ships. Most ships will sail day-in-day-out for at least the next thirty years and it would be an pity not to equip them with a device which saves so much fuel consumption and CO2 emissions, while improving comfort for the passengers onboard."
The tally of built Hull Vanes now amounts to nineteen units, of which five for patrol vessels, and Shipyard De Hoop is already the fourth repeat customer for Hull Vane BV. The company reports that 20 more Hull Vanes are on order or very close to being ordered for superyachts, passenger ships and patrol boats.
Bruno Bouckaert, sales director of Hull Vane BV: "We clearly see a shift compared to five years ago, when we started. We now have so many full-scale examples on a wide range of vessels, backed up with performance numbers and 40 years of accumulated usage without a single repair, that no-one really doubts the effectiveness or the durability of the Hull Vane® anymore. Naval architects and ship owners are increasingly aware that reducing the ships' resistance today will make a future energy transition a lot easier, even if we don't yet know how we will do it."
Hull Vane®
The Hull Vane® is a patented fixed hydrowing that is placed below the stern of a ship, saving energy and improving seakeeping. This 'hydrofoil' influences the stern wave pattern and creates hydrodynamic lift, which is partially oriented forward and reduces the ship's resistance. Invented by Dr. Ir. Pieter van Oossanen, it has been on the market since 2014 and has won several maritime innovation awards.